Cemeteries not only serve as a final resting place for our loved ones, but also as an invaluable historical archive of the lives and memories of past generations.
Unfortunately, the effects of weather and continuous visitors to cemeteries can lead to sunken headstones, crooked rows of memorials, dirty monuments, and unkempt landscaping. Older headstones made of materials other than durable granite, like sandstone or marble, may start to deteriorate as well.
These were some of the issues that the Burroughs Cemetery in Troy Township, Ohio was experiencing when they reached out to Milano Stone & Restoration for cemetery restoration services.
Evaluating the Cemetery's Condition
Burroughs Cemetery is the final resting place of generations of township residents, with some memorials dating back to the 1700s. After decades of wear and tear on these historical monuments, Burroughs Cemetery realized it was time to invest in cemetery restoration services.
While other restoration providers couldn't complete the project for two to three years, Milano Stone & Restoration was able to handle the project immediately, thanks to their proximity to the cemetery and team of available restoration experts.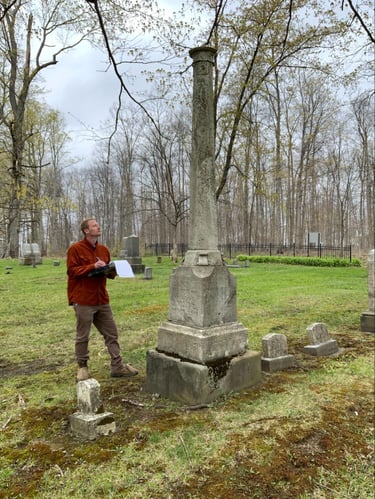 Milano Stone & Restoration specialist, Kody Younglas, completing an audit of the cemetery.
Prior to starting any cemetery restoration services, the Milano Stone & Restoration team completed an on-site audit of Burroughs Cemetery. The audit process included evaluating the condition of the memorials, monuments and surrounding landscaping. The audit revealed many failed memorial foundations, broken headstones, monuments covered in years of debris and uneven rows of memorials.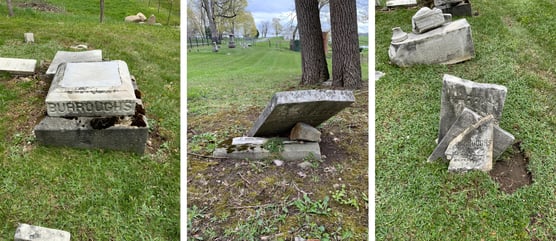 Broken and tipping memorials in Burroughs Cemetery, before restoration work.
Once the audit was complete, the Milano Stone & Restoration team mapped the entire cemetery into sections and rows to clearly depict the restoration work to be done.
Restoring Burroughs Cemetery to Historic Beauty
Starting in mid-June, Milano Stone & Restoration's team of cemetery restoration specialists began to restore Burroughs Cemetery. Over the course of two months, the team completed the following services:
Reassembled broken monuments. The Milano Stone & Restoration team repaired Burroughs Cemetery's broken and cracked monuments and headstones, using both epoxy and plastic pins.
Professionally cleaned all monuments.

Cleaning memorials and monuments

, especially historic ones, requires careful skill and gentle equipment.
Straightened rows of memorials. Milano Stone & Restoration set crooked headstones back to their original straight lines.
Repoured failed foundations. When

memorial foundations

aren't poured deep enough, the memorials themselves will begin to sink and/or tip in reaction to the ground freezing and thawing.
Trimmed unnecessary brush, bushes and trees. Falling tree limbs and overgrown brush not only tarnishes the appearance of a cemetery, but can also be a hazard to memorials and visitors.

Burroughs Cemetery, after restoration work.
Milano Stone & Restoration left Burroughs Cemetery looking clean and beautiful once again—a lasting tribute to the lives honored there.
Continuing to Beautify Troy Township
Burroughs Cemetery is the first of many cemetery restoration projects that Milano Stone & Restoration hopes to complete for Troy Township. Similar to other cities and townships, Troy is home to several established cemeteries, each in need of some level of restoration work. The Milano Stone & Restoration team looks forward to preserving the memories represented in the remaining area cemeteries over the next few years.
The Benefits of Working with a Local Cemetery Restoration Provider
If it weren't for a local cemetery restoration provider, Burroughs Cemetery would have had to wait two to three years before restoring their memorials and monuments.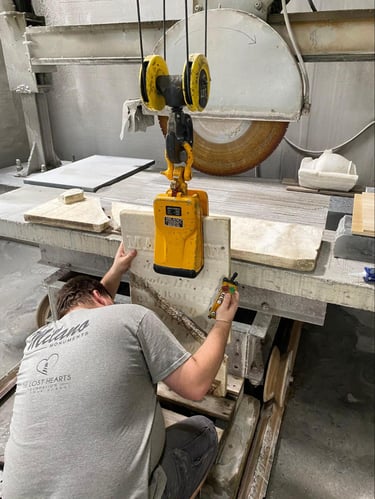 Milano Stone & Restoration specialist, Dan Vavro, restoring a memorial in the Milano manufacturing facility.
Here are a few of the other benefits of working with a local provider like Milano Stone & Restoration:
Restoration specialists can easily travel to the cemetery to conduct an on-site evaluation of the headstones and grounds.
Local restoration providers can complete restoration work in a timely manner.
The cost to complete cemetery restoration services is often lower, compared to an out-of-state provider.
Local cemetery restoration providers can use their own commercial equipment and/or take memorials back to their nearby manufacturing facility to complete the work.
Restore Your Cemetery's Historic Beauty with Milano Cemetery Restoration Services
Milano Stone & Restoration has over 50 years of experience in stoneworking and memorial restoration and cleaning. We are one of the few memorial providers in Ohio that offer full cemetery restoration services and have worked with a variety of cemeteries and community parks to restore their headstones and monuments back to near-original condition. Take the first step to restore your community's cemetery by contacting our team today.