While many fans focus on the players and coaches on the field during the Browns' season, there's one rock-solid piece off the field that's been the cornerstone of training camp for the last six years.
Rebuilding the Cleveland Browns On and Off the Field
The 2012 NFL regular season ended, the Browns recorded another double-digit loss season and finished last in their division for the second consecutive time under coach Pat Shurmur. With such a young roster, it was evident changes were coming.
Shurmur, who only won nine games in two years, was fired by the Browns on the morning of New Year's Eve 2012.
"We felt that these moves were in the best interests of the Cleveland Browns and our future," Browns' owner Jimmy Haslam III said in a statement released by the team.
But, Shurmur wasn't the only personnel change. In the next month, the Browns replaced five other coaches, including the offensive and defensive coordinators.
It was clear the Browns were in the midst of a rebuild. And while they made some major player and personnel changes, they also made a few subtle changes to help enhance the team's identity.
A New Identity in Berea
The Browns were at a low point. They had just fired their fifth head coach since 1999. The team needed some repairs and so did the sign outside their training camp facility in Berea.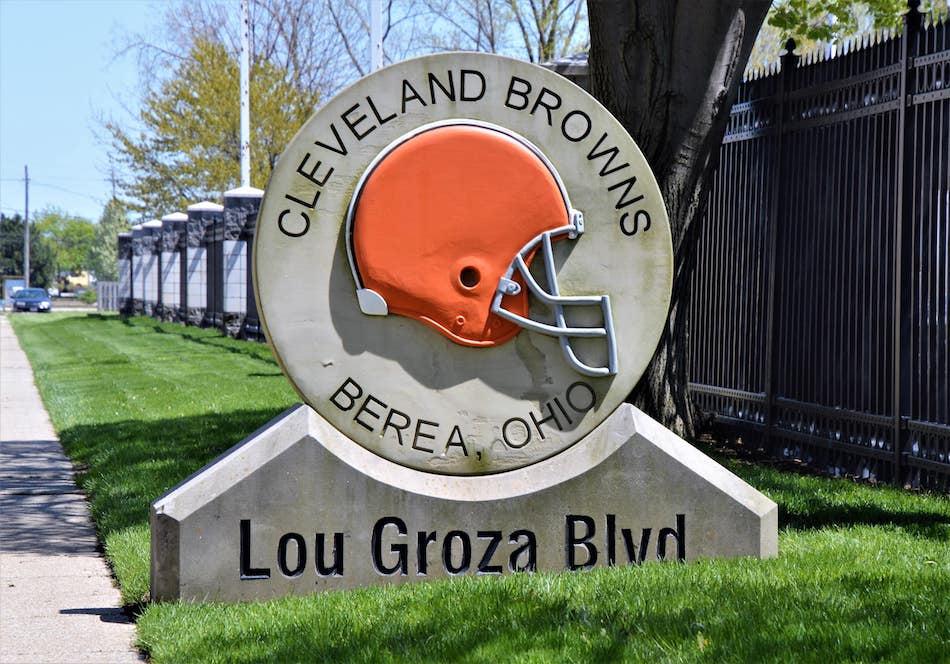 The refurbished sign on Lou Groza Blvd., located outside of the Browns' practice facility.
The limestone sign was damaged and dirty. After years of wear and tear, the sign suffered from:
A large crack along the top.
Stains from outside elements.
Discoloration in and around the emblem of the helmet.
As the first branded object you see when entering the facility, repairs were critical.
The city of Berea needed an expert. They needed a company with experience repairing and cleaning commercial business signs, so they called Milano Stone & Restoration. To restore the sign's appearance, our experts:
Repaired the crack in the limestone.
Cleaned the sign.
Sculpted the helmet on the front and back of the piece.
The Emblem's Importance to the Franchise
The Cleveland Browns sign at the team's training facility is much more than a large piece of limestone—it's their identity. It's an investment that represents who they are as an organization and it needs to look professional and pristine.
As you drive down Lou Groza Blvd., you see a sign that the team and its fans are proud of. If you're headed to training camp this summer, make sure you stop by and check it out.
Highlight Your Business with a Customized Sign Like the Cleveland Browns
Milano Stone & Restoration is built by stoneworking experts capable of creating custom signs that make your business stand out. Contact us today to learn how we can highlight your business with a custom sign like the Cleveland Browns.